Overview
General info

RealGTA3 (=RGTA) is a free add-on for THE BEST GAME OF 2001 - for GRAND THEFT AUTO 3. RGTA is not a product of Rockstar North/Rockstar Games/Take 2 Games! RGTA is the ultimate collection of many GTA3 modifications made by independent authors from all-around the world. The intention of RGTA is to make GTA3 more realistic by adding real cars, buildings or advertisements all over Liberty City. Some information about RGTA development it's in credits section.
Since it is free add-on, you can not profit on RGTA anyhow! Use RGTA at your own risk - I'm not responsible for any hardware or software break-downs or lost data/profit/business/information/wife;-).
If you thought GTA3 was brilliant, then you don't know RGTA:-). RGTA improves GTA3 in many ways - here's a brief list of RGTA features:





ALL cars have been changed to new ones - each one with unique handling, colors and 3D wheels. TO SEE PHOTOS OF ALL CARS, GO TO GALLERY.

Sports cars:
● Lamborghini Murcielago + Diablo VT6.0 ● Porsche Carrera GT
● Opel Speedster ● Dodge Viper GTS ● Ferrari F355 ● BMW Z8
● Plymouth Prowler ● Mercedes-Benz SL500 ● Aston Martin Vanquish V12

Sedans:
● Lexus LS430 ● BMW 760Li + M3 ● Mercedes-Benz C200
● Škoda Octavia ● VW Passat ● Mitsubishi Galant ● MINI Cooper S

Heavy vehicles:
● Freightliner ● Coca Cola Truck ● Kamaz 55111 ● City Bus
● Group 4 Securitas Car ● new Trashmaster ● new Orange Flatbed

Off-road cars:
● Chevrolet S-10 ● Cartell Crusher Monster Truck
● Hummer ● Land Rover Freelander ● Sarin XTV

Public service cars:
● New Ambulance ● new Fire Truck ● Police Ford Crown Victoria ● T-80 tank
● SWAT Van (new Enforcer) ● FBI BMW M5 ● Army Truck (new Barracks OL)
● Peugeot 406 Taxi ● Ford Crown Victoria Taxi ● Mercedes-Benz A-Class Taxi

Special vehicles:
● RC Peugeot 205 ● Family Frost Van (new Mr.Whoopee)
● F-16 ● new Train ● Toyz Mercedes-Benz Sprinter

Mob cars:
● Cartel Jeep Grand Cherokee ● Diablos Ford Mustang GT (Concept 2005)
● Hoods Seat Leon Cupra R ● Triad DAF XF 530 ● Mafia Audi S8
● Laundry Mercedes-Benz Sprinter ● Panlantic Mercedes-Benz Sprinter
● Yakuza Toyota Supra Veilside ● Yardie Chevrolet Monte Carlo



These objects have been added to the city:
● Statue of Liberty - this awesome NY's statue has moved to Liberty City:-) You can find it on new island near the Kenji's casino (it's even marked on radar!), so you must use a boat to get there. There are some useful historical and technical information on statue's pedestal. If you want to see whole Liberty City from the birds-eye, use stairs to get into statue's head or torch! But don't fall down!
● Player of previous version of RGTA suggested a great idea - jump ramp to Liberty Island;). So it's in the game. Just take very fast car and try to be accurate in targeting the ramp - go wrong speed or direction and you won't land by the Statue of Liberty...you will fall into water:-). There's a boat by the Liberty Island ready to get you back to Staunton (you must start new game - boat won't be there if you load non-RGTA save games).
● New bridge - it is placed in Shoreside Vale and it's VERY useful, because it connects your hideout to the main road near the Francis Int. Airport. If you use Yakuza's Toyota Supra Veilside, you can get to Staunton from Shoreside in few seconds!!!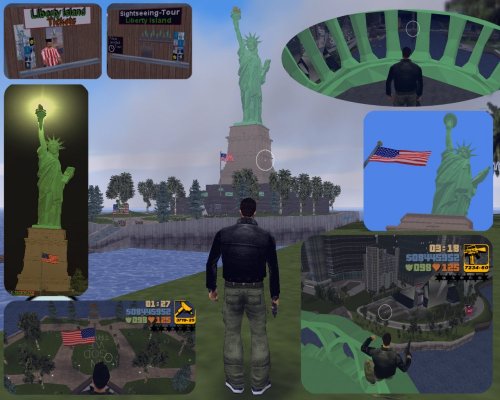 These new buildings' outfits are included:
● completely redesigned brownstone district in SV ● Shell gas station ● Canadian hotels
● Coca Cola factory ● Quelle storage ● IKEA ● 2x OBI ● 2x Media Markt ● NetCafe
● 4x Sparkasse bank ● Kenvelo Clothing ● CineStar cinema ● Euro Express depot
● fast-foods Nordsee, 2x McDonald's and 2x Pizza Hut ● Ford Service ● Mercedes-Benz Taxis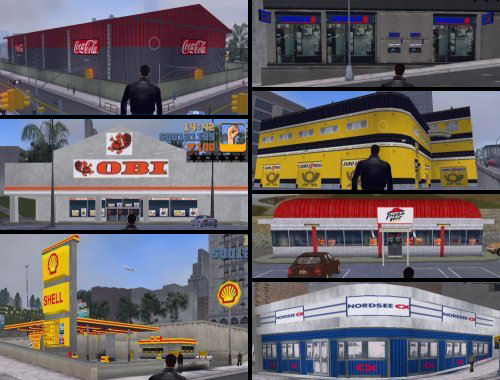 RGTA brings you completelly new arsenal - crowbar, Desert Eagle, uzi KG-9, shotgun Battle 7, MP5, Sig551, rocket launcher M79, sniper Rifle PSG-1, L2A2 grenades, new molotov and flamethrower model! The weapons are more effective (by 50% on average), so now it's really dangerous to hang around in the area of hostile gangs! Few bullets from any weapon are enough to get you killed...but on the other hand, you're invincible if you can use your weapons well!


● New in-game menus and loading screens
● In-game texts changed to fit the RGTA
● New universal license plates for all cars
● New realistic chrome reflections for all cars
● New billboards, posters and advertisements all over Liberty City (read the list of brands here)
● Water has got a new look
● All tress have been changed to beautiful palms
● Ugly grey rocks/cliffs are now beige like in Greece;)
● Roads look more modern
● Pipes in water have been removed - you can travel by boat everywhere you want
● El Burro's xxx magazines are Playboy magazines, poster of naked Christina Aquilera in hideout added;)
● Euro Express crates and mail boxes
● New coke machines (Pepsi + Coca Cola)
● New helicopters at airport
● New pager by CityGear
● New crosshairs for rocket launcher and sniper rifle
● Default ugly radar is now color and very detailed! Roads are white, buildings are orange, grass is green, water is blue and places of interest are purple.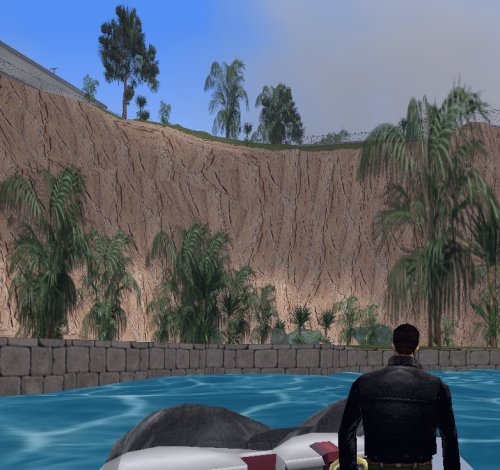 DOWNLOAD FINAL REALGTA3 NOW!
ALL PICTURES ARE IN THE GALLERY!
VISIT CREDITS TO SEE WHO'S BEHIND REALGTA3.
RAN INTO PROBLEM? SEE HELP.
DOWNLOAD README!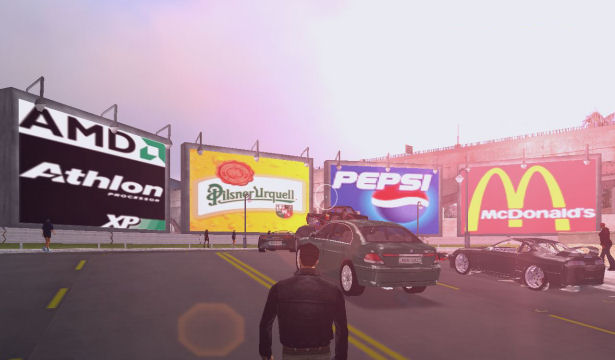 © 2002-2012 Petr Doupal