Doupik | May 22th, 2008
realgta.net problems
Oh that's so fu*ked up! My host failed to pay web hosting and is not going to continue to operate anymore. But he wasn't aware of the payment so he hasn't informed me about it, so today, out of the blue, RealGTA.net on realgta3.gtasa.cz just stopped working. It took 3 hours to move it back to my server; everything works now, but Google remembers the old URL realgta3.gtasa.cz, so realgta.net (physically realgta.doupal.cz) is not listed anyhow, so if you read this, then you are really lucky or you are skilled user to reach this website! I'm so pissed!
UPDATE May 25th: gtasa.cz is back online and realgta3.gtasa.cz is now being redirected to realgta.net domain, I host it by myself. Sorry for this inconvenience.
Doupik | April 26th, 2008
RealGTA4? GTA4REAL? No idea yet...
Hi everyone. It has been a long time since you last heard from me... I'm still here, a college student, can't really afford a PS3 so I can try GTA IV, but let's hope it will arrive on PC soon. GTA IV is still based on fictional brands, so there's definitely chance for another RealGTA. RealGTA3 was successful project, RealGTA:VC come to grief because of the game limitations, RealGTA:SA never happened mainly because of lack of my time, but there's some hope for RealGTA4, or as I also call it GTA4REAL, like it's for real. I'm looking forward for great mods by the community and tools for GTA IV so I can make something:-). Well, but it's still too soon to talk about it, there's no official word on GTA IV on PC yet...
Please don't be bothered by google ads, I'm just trying them if it is possible to comulate money that way so I can buy that next-gen console :-D.


Doupik | December 24th, 2006
100,000 visits as a Christmas gift? :-)
I'm proud to announce that RealGTA.net has been visited 100,000 times since the re-launch only 13 months ago. Recently there was a sudden growth of visits from Latvia, which doubled the average number of visitors - thanks for your support.





I'm a college student now and that requires lot of time, so I'm afraid there will be no RealGTASA. It's an old game anyway:-). I'm looking forward for the next-gen Grand Theft Auto - let's hope it will be modificable.

So merry Christmas and wonderful year 2007!
Doupik | April 1th, 2006
RealGTASA next friday!

Following text has been an April joke, have you been fooled:-)?
Yeah, I've been secretly developing a modification for GTA: SA since last summer! I put much effort into development and with help of my friends in community we managed to compile a massive total conversion of our adored GTA: SA. I'm just finishing the installer and I'm taking screenshots to create a new presskit - it would take some time to document everything, because all vehicles have been replaced. Expect all your favourite rides like Gallardo, H2, F430, M5, Hayabusa and many more. Also my experienced team redesigned all shops in San Andreas to match the ones you know - McDonald's, Starbucks, Pizza Hut etc. RealGTASA has got many more great features, so visit RealGTA.net to come to know more next friday, which is just 6 days from 1st April;)
Doupik | January 9th, 2006
RealGTA.net site visits
RealGTA.net has reached 10,000 visits in 2 months since the re-launch of the site and it has 150 visitors every day. I'm satisfied with that number - RealGTA3 is 3 years old project now and it's still quite popular:-). Too bad I'm in the last grade at a grammar school and have no time to do anything for San Andreas:-(.





Anyway, I wish you a successful year 2006!
Doupik | November 6th, 2005
RealGTA.net RELOADED
Welcome to the new RealGTA.net website! :-)

RealGTA.net website was not updated for 2 years already, so I decided to change it. And here's the result! Domain name is still RealGTA.net, but the site itself has moved to gtasa.cz server, the best czech GTA San Andreas website.
I hope you like the new design - no white font on blue background anymore:-)! Browse the site using the left menu.
This site is HTML valid, so you won't have any problems viewing it on IE, Firefox or Opera.
Doupik | October 30th, 2005
RealGTA3 downloads
I have updated RealGTA3 mirrors and I also counted the downloads, here's the figures:
GTA3-mods.de: 193 000
FilePlanet: 79 000
GameSpot: 53 000
CNET Download.com: 47 000
GameCenter.cz: 39 000
FileShack: 15 000
GTA.ru: 15 000
GTA-Action.com: 11 000
+ FileFront (4000), 4players.de (3000), ZDNet (1000)
+ yet unknown number of downloads at the top czech gamesites BonusWeb & Tiscali Games Anyway, it gives a number of more than 0,5 million downloads! That's fan-fuc*ing-tastic;)! Thanks a lot for your support!
Doupik | January 1th, 2004
Sad info about VC mod
I have known it for 5 months already...but I was too lazy to write it here:-). Ok, I'm saying it sadly, but...there will be
no Vice City mod!
That's bad, isn't it? But it's not completely my fault - you know that I wanted to continue with modifying GTA games, but I wasn't enabled to do it:'(.
Vice City is a great game - after I finished the whole game (100% in 5 days;) I had decided to take a look at it with an eye of a modder. It is fuc*ing unbelievable that Rockstar somehow modified the engine to disable adding new custom cars - so if you add "more then few" custom cars into VC, the graphics will totally mess up! So I could create a modification with few low-polygon low-resolution cars, but THAT SUCKS! Sequel for RGTA couldn't be that shitty...so it was better for me to make nothing rather than to come up with something I wouldn't be satisfied with. Other people tried (Modern Mod, KillerKip) to create total conversion mods for VC and maybe someone else will try to - I wish them good luck...they will need it.
By the way, I'm kinda tired of the whole GTA "community" - I dislike everything related to GTA now! When I hear "GTA" I've got a strange feeling...and that's all because of that serious graphic bug in Vice City made by Rockstar! Dammit! GTA: San Andreas is coming to PS2 on October 2004, on PC probably during summer 2005...maybe I'll gather enough energy and will to create something for it, but now - I'm out!
In this last paragraph I've got to THANK all people who played RealGTA3 - I'm so happy that YOU made RGTA the most popular and successful modification of GTA3! Farewell...

I WISH YOU WONDERFUL YEAR 2004, MAYBE WE'LL MEET AGAIN;)
Doupik | July 17th, 2003
Farewell movie
Attention people! After 3 days of work I'm finished with special RealGTA3 video! I want to say goodbye to RGTA and I think that farewell video is a good way:-). It is more than 7 minutes long, so I had to balance the quality and the size, so in the end, it has got nearly 35MB (compressed in DivX 5.05 and mp3). I really think that it's worth to download it even with dial-up. The video is full of nice views of RGTA cars with great music in the background!
DOWNLOAD REALGTA3 FAREWELL MOVIE NOW!!!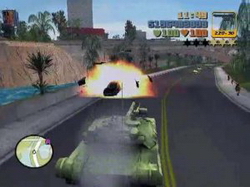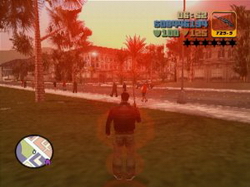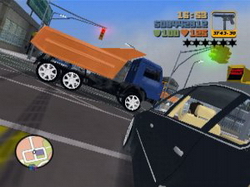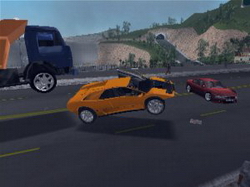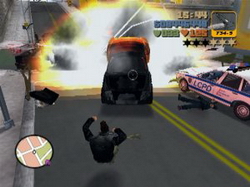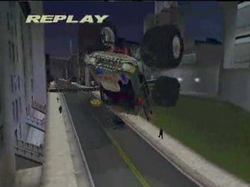 Doupik | July 13th, 2003
Mini update for Final RealGTA3
It is already quite a long time since Final RealGTA3 release! And today I finished special mini update for FRGTA - some people complained to me that Actroses (both normal and Triad version) sometimes crash the game, so I decided to fix it. The mini update replaces Actroses by DAF XF 530 (author: Sin5k4) and Freighliner (author: YoYo). Have a nice playing and holiday vacation!
Pictures of both trucks are in images section.
Download MINI UPDATE for Final RealGTA3 now!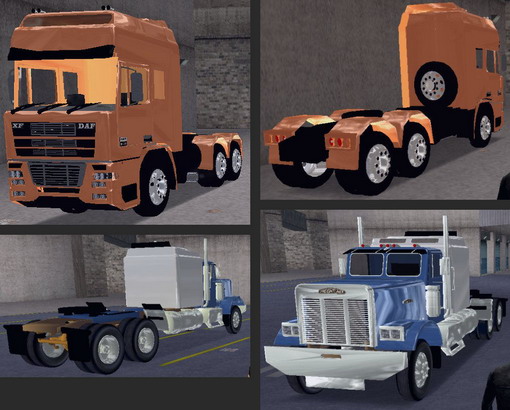 Doupik | May 30th, 2003
Too much web-traffic!
My web hosting provider cut me off, cuz in the past week, a 1TB, that's 1000GB, have been downloaded from realgta3.net!!! Fortunately, everything's ok now, except you cannot download Final RealGTA3 from my server, you have to use some of my mirrors. I'm really sorry for that, but my provider can't accept 40Mbit/s non-stop traffic:'(.
Doupik | May 24th, 2003
Final RealGTA3 OUT NOW
D-Day is here!!! After 9 months of intensive (and painful;) development I finally finished the last version of RealGTA3! I call it Final RealGTA3...everything I dreamt about is in it, so I hope you would enjoy it as much as you can!!!
What can you expect from RGTA? ALL CARS in GTA3 will change to new ones! Feel the difference while driving Lamborghini Murcielago, Opel Speedster, Porsche Carrera GT, Dodge Viper GTS, Ferrari F355, BMW Z8, BMW 760Li, MINI Cooper S, Jeep Grand Cherokee, Mercedes-Benz C200 and many other! RGTA also heavily changes the whole Liberty City by adding real shops, factories, restaurants, billboards, posters and changing many textures such as roads, water, trees, cliffs etc. New weapons are included too. Go to info section to see the looong list of all RGTA features!


You have choice from many mirror download sites
READ THE README TO LEARN HOW TO INSTALL REALGTA3 PROPERLY
Doupik | April 21th, 2003
Archive of trash news is offline :-)
Sorry guys, I don't archive the ancient news from the age of RealGTA3 1.0 and 1.1 :-)

But I still have them on my computer, so I can send them to anyone on request.
© 2002-2012 Petr Doupal